Great dinner. Wonderful service. Maple glaze wings are incredible.
— Open Table Diner
Ana and her staff were friendly and the food and bar selections were fantastic. The location was less than 10 minutes from Sugarbush North....our ski destination. Warm rustic Vermont Charm. Our standard poodle was also quite comfortable with the Hyde Away Inn. We will definitely return. Breakfast was included in the room price. The breakfasts were to order and the menu was fantastic.
— Open Table Diner
Great local beers and hyper local food choices.
— Open Table Diner
This stick season has been a busy one at the Hyde Away. While we're waiting for snow to fall, we've been finishing up some renovations. Some efforts are behind the scenes to upgrade structural and functional aspects of the building. Others are designed to improve our guest's experience.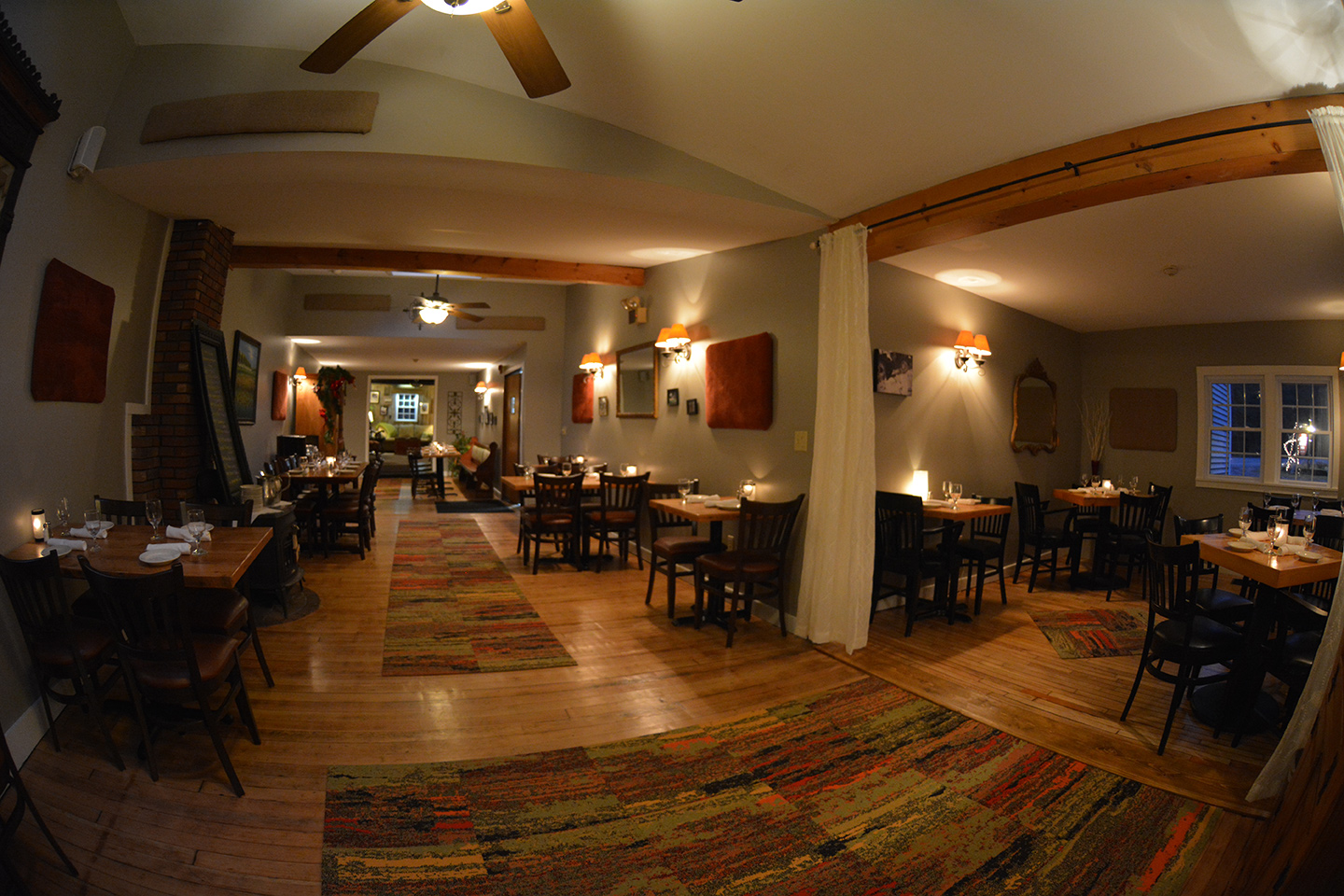 We've renovated the dining room by stripping and refinishing the wood floor. Upgraded many of the tables with hand-crafted tops, made by Alex McKenzie of Newschool Builders, from reclaimed barn wood. Replaced the old chairs with more contemporary, but classically styled, wooden chairs with leather seats. In a few days, new booths will arrive.
In the Tavern, we've redesigned the lighting. Installation is not yet complete, but the new lighting puts light where it's needed while maintaining the ambiance that has long been a part of the Hyde Away experience.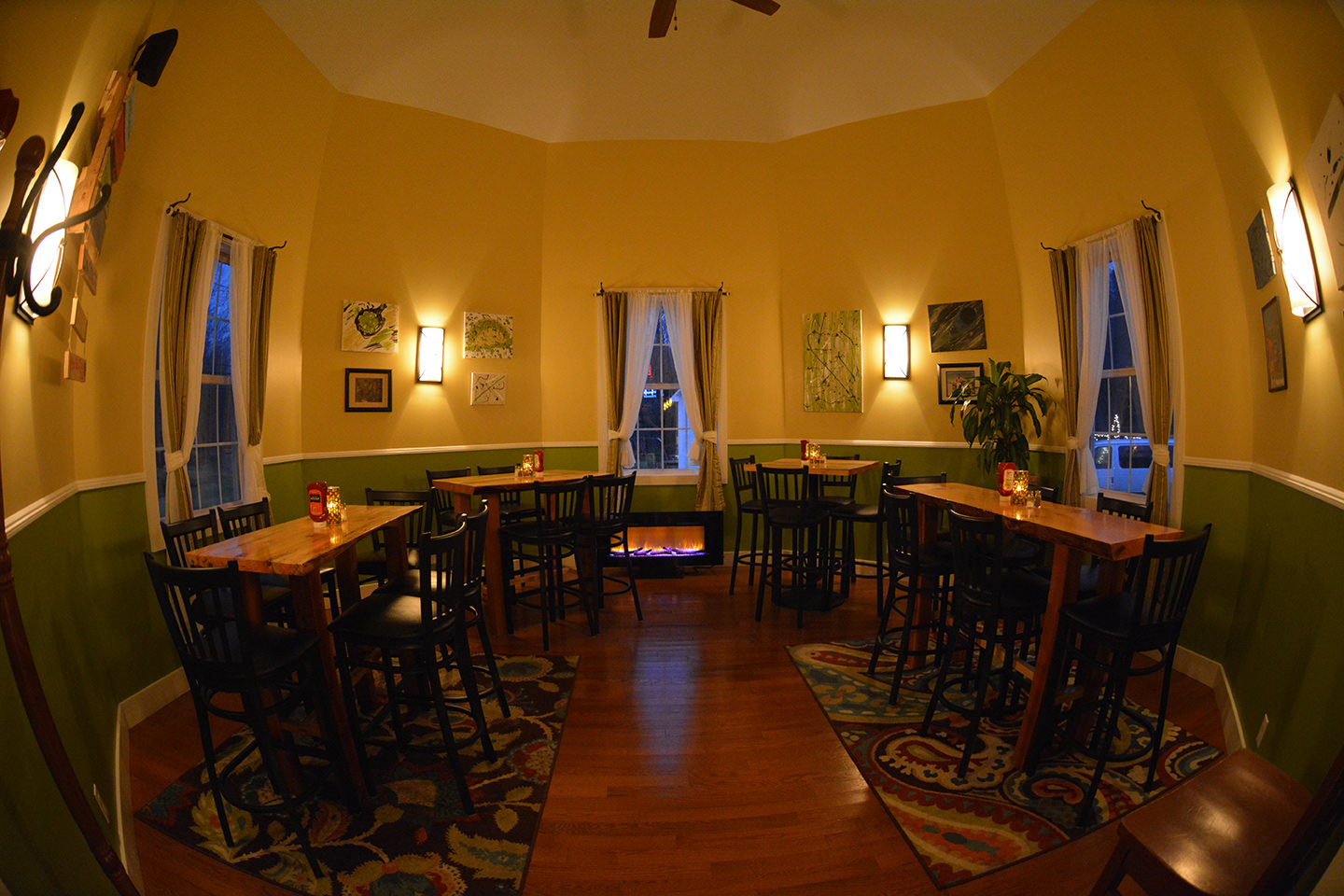 Every bar surface will have down lights from above. So everyone at the bar will be able to read their menus. In the new lounge area, some lighting gels did the trick for wall sconces and new bulbs made the chandeliers work better. In the silo, new bulbs make a warmer, more inviting appearance.
Well...what an amazing place to find through your own ignorance of over twenty years of skiing at Sugarbush. My wife and her family had a retreat in the valley for over two decades of skiing. After the sale of the property, my wife and I searched the area for a new retreat, to share our passion for skiing with our 3 year old daughter. Well, our prayers were answered by booking a vacation at the Hyde Away. Wonderful people!! Incredible food!! With the feel like you always belonged!!! So, I ask what more could a person want coming here for a vacation? I can tell you its your loss not to experience the awesome, welcoming feeling you get staying here!!!!! This is our new winter home!! People make the difference, so be around the Right people!!! Thank You Always to The Hyde Away!!!
— Thomas Jones - (comment on Vermont Sports Magazine news item)
We just wanted to thank Margaret for being so helpful to us last weekend. It was so nice of her to give us her personal map for hiking. We had a wonderful time because of her. We have been traveling to several different places and it is so nice when we run into people like her.
The food was also wonderful! We will be back again next year for the marathon.
Thanks again and have a wonderful weekend.
— Lynda and Pat M.
Just a note to thank you for the wonderful week we had with all of you at the Hyde Away. Loved our room, the delicious food, the fun bar, and the friendly people we met. How nice to have our breakfast prepared just for us each morning.
Hope to come back in the Fall! Thanks again! We had so much fun!
— Ed and Carolyn
"[This] is from August 2007. We were celebrating Justin's birthday. It includes from left to right, my sister Patty, me, Ellen, my sister Patty's son Justin and his wife Brooke. That was a great day on the deck at The Hyde Away — one of many great days and meals at your place. Hope all is well and that you had a nice New Year's. See you soon." — Mike Cudemo
I am Virginia Wheeler Harvey and I live in Bradenton, Florida. I have a little info to add to your Hyde Away Inn history, which I saw in a recent Valley Reporter. My family, my father being Herbert Wheeler, moved into this house in 1943, if I recall correctly. This is what the house looked like at that time. We had cows and chickens, and I remember helping with the haying. The house had no electricity or indoor plumbing at that time. That is my sister, Shirley, standing on the porch.
Regards,
Virginia Harvey
Folks, Thanks to you all soooo much for hosting us for the Green Mt Stage Race this past weekend. First, y'all made us guys feel just like family — treating my two racers, Ben & Brian, like your own. Special kudos to Sherry for being like Mom. 2nd, to kitchen staff: The food was supa! and plentiful! Benny's double order of pasta kept him goin' up the App Gap on Sunday. Brian's feed gave him a 5th place finish on that Mt stage and an overall 5th place on GC…wow! In addition to the aroma of food wafting from the back door to the fireplace room, hearing a little Grateful Dead is always an added bonus. The tavern is one of the friendliest I've visited. The local personalities hanging out was an added plus to the great service an attentive bartending staff. I just had to see that my racers did not spend too much time in there. No! no! no! boys…not till after the racing is done! Thank you Margaret! Your charming and friendly phone manor sold me on the inn right away. I had to keep calling 'cause it just made me smile to do it. Finally, the boys had a very successful outing. Ben holding 8th place on GC for 2 stages thanks to leaving smoke on the course in the time trial and circuit events. Succumbing to his size (6'5" and 190 lbs) on the final ascent on Sunday after staying with the leaders up Brandon Gap and forcing a break on the descent, he finished the day a respectable 30th with a final GC of 28th. Brian, with a slow start on the TT and circuit events, blasted up the 20 percent grade at the top of the App Gap, passing numerous riders as if they were frozen in place achieving a 5th place finish on the day!!!!! And holding onto a 5th in GC after the Criterium in Burlington on Monday. Both boys left feeling happy and proud of their performance and promise to return next year. Coach here, after racing for 20 some-odd years with a very long layoff in between, was giddy to be back in the game. Some things you just don't forget. Just like riding a bicycle, huh? So Margaret, next year 'round this time that phone's gonna ring again. The boys will be back again!
— Woody, Ben, Brian, September 2, 2008