Chris is a Maine native who has been in the culinary field for over 20 years. He trained as an apprentice at the world renowned Balsams Grand Resort Hotel in Dixville Notch, New Hampshire, a Four Star, Four Diamond resort in the Northern White Mountains. The Program was a 6,000 hour training program accredited through the American Culinary Federation (ACF), the country's largest organization for professional chefs. While in the program, he earned the honor of Apprentice of the Year.
Upon graduation, Chris stayed on as a Sous Chef and an instructor for the apprenticeship program. During this time, he coached various junior culinary competition teams and won the ACF chapter Chef of the Year.
After a brief stay at the Pink Elephant Restaurant in Boca Grande, FL, he returned to the Balsams to lead the brigade as Executive Sous Chef. In 2005 he accepted the position as Chef de Cuisine at the historic Griswold Inn in Essex, CT, which so happens to be the place he met his lovely wife Heidi. While at The Gris the opportunity came to re-assume the role of Chef de Cuisine and Vice President of the apprenticeship program at The Balsams. In 2011, Chris earned the honorable Certified Executive Chef (CEC) through the ACF.
After the sale of The Balsams in 2011, Chris became the Executive Sous Chef at Stowe Mountain Lodge in Stowe VT. In 2014 he helped open The Elusive Moose in Waitsfield. In the fall of 2015, the opportunity to take the helm as Executive Chef at the Hyde Away arose and he accepted in September.
Chris lives in the Mad River Valley with his wife Heidi and looks forward to many years of creating memorable culinary creations with his friends & guests at the Hyde Away.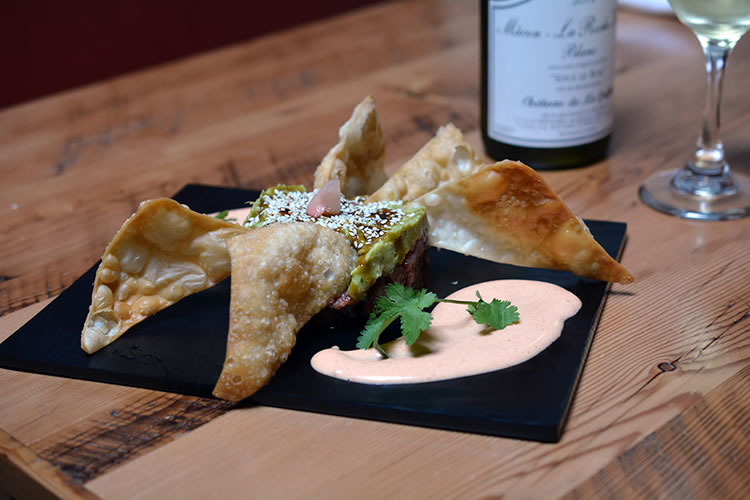 In March of 2016 Chef Chris won an award for his Spicy Tuna Tartare.
Chef Chris Harmon and the Hyde Away, Fayston, were the winners of the Peoples' Choice Award for Best Taste at the Vermont Chamber's Taste of Vermont legislative reception on March 17 at Capitol Plaza Hotel in Montpelier.

Harmon served spicy tuna tartare, crispy wonton, avocado puree, Sriracha emulsion, soy caramel and pickled ginger to over 300 chamber members, administration officials and legislators who were present. — The Valley Reporter